Note: For all the people without a sense of humour - THIS IS A SATIRE!
Everyone keeps talking about Bully and how it got away with a teen rating despite its violent context, but little do they know that there is one game that is corrupting our youth day after day -- and it got away with an E for everyone rating. That game is Viva Piñata. Sure, it looks innocent enough from a distance, but once you play the game, you will see the corrupt nature of Microsoft hidden deep within.
The game starts as your character arrives on Viva Piñata Island to find a little girl wearing a mask who asks for your help in rebuilding the garden. The garden around you looks like something out of a downtown ghetto with tires, weeds and pieces of junk everywhere, but don't worry because the girl helps you start the game by telling how to tend and attract piñatas to your garden.
Now, can you see the racism in that beginning alone? I mean obviously if the island is full of piñatas and the little girl is wearing a festive mask, then she must be Mexican and by having her tell you how to fix the garden instead of having her do it herself, it's Microsoft's way of saying Mexicans are lazy. You see how evil this game is.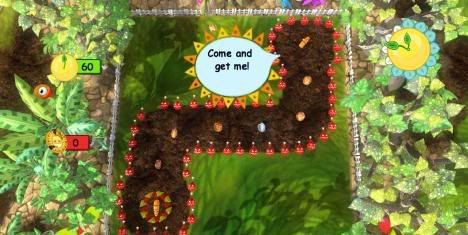 Things just get worse from there. As piñatas arrive in your garden, you are required to build them homes, satisfy their needs and then mate them to make more piñatas of their kind. Harmless enough, right? Harmless until you get to the mini games.
You see, Microsoft wants our children to believe that mating is nothing more than a game, and worse of all, some of the piñatas even have some weird kinks in their mating mini game rituals.
The Tafflies are required to navigate a maze of bombs that is in the shape of a pile of poo with stink lines. How can we believe this is suppose to be a wholesome game, when our children are playing mini games in poo shaped bomb mazes in hopes of mating some piñatas?
Sounds like weird scat play to me. There are even mazes that are phallic shaped for piñatas like the Worm or the Syrupent. The mating process gets much worse when the piñatas start performing their filthy sexual dances before they make their little babies.
For example, the Taffly's dance has them sucking on each other with their mouths and then one even goes as far as to suck up the other one and then spit it back out with some weird green slime. If that doesn't sound sexual, then I don't know what does. This is a kid's game and there should be nothing sexual in it, especially when it comes to making piñata babies.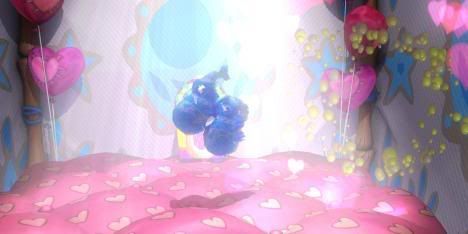 Viva Piñata even has incest and possible gay sex going on. Yes, once you mate two piñatas, you can then mate them with their offspring and they will produce a baby piñata together.
Is Microsoft trying to teach our kids that having relations with your family is OK? They should have made it true to real life and had the baby piñatas come out disfigured or something. Of course, with all this weird breeding going on, I bet people didn't even stop to think about the fact that each piñata has no distinctive features to separate the boy piñatas from the girl piñatas.
They have no genitalia, yet they can breed. How is that possible and how do we know we aren't breeding boy piñatas together? You see how sick and twisted this game is. The people at Microsoft are trying to warp the minds of our children with their evil gay, incestuous piñata sex. Next thing you know, your children will be humping the piñata at their next birthday party, instead of breaking it open. God, I hate to imagine how warped our children could end up from all this.
The weird sex isn't the only thing going on it the game though. Getting back to the racist nature of the game, you have all these obvious Mexican people on the island and what pray tell does Microsoft have you doing to the Mexican people? They have you hiring them to do gardening.
Thats right, Microsoft has the little Hispanic people doing hard labor in another ploy to keep the immigrants down. These game developers make me sick. Even the people working in the stores are only paid with chocolate coins. So, what the Mexicans aren't good enough to receive real pay for all their hard work? No, we have to pay them in food and shelter, instead of real money or they may get a leg up in life and we can't have that.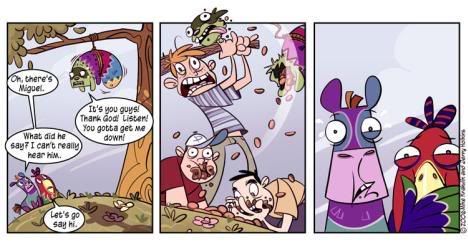 Finally to top off all this sick, twisted gameplay, your children will be forced to watch as piñatas kill other piñatas and feast upon their chocolate candy insides or watch as they are bashed to death and poisoned by the evil Ruffians that live on the island.
One evil Ruffian will even kill your piñatas for just getting sick. Is this Microsoft's way of saying that when an animal gets sick, your only choice is to kill it. God, what are you trying to do to our children? They're going to need therapy just to make it through life as somewhat normal people after this game.
Play the game for yourselves and see the evils I've talked about in this article. People like Jack Thompson are so worried about the violent and sexual messages we see in games like Bully and Grand Theft Auto 3, that they can't see the corruption that is getting to our children in games like Viva Piñata or Pokemon.
If games like these can get an E rating, then perhaps the rating system does need to be re-evaluated. I urge anyone reading this, if you have Viva Piñata in your home, please don't let your children play as they will be corrupted by the foul messages that lay within.